Уважаемый посетитель сайта! Вы используете устаревший браузер. Для корректного отображения информации, пожалуйста, воспользуйтесь другим браузером или обновите используемый!
ON A VISIT TO EGYPT
During the official visit of the President of the Republic of Belarus A.Lukashenko to the Arab Republic of Egypt, on the premises of multifunctional business centre «Al Masah Capital» in the new administrative capital the first meeting of the Belarusian-Egyptian business council in the format of a business forum took place.
The meeting included presentations of the scientific and technical potential of the Republic of Belarus, as well as promising investment projects. The forum participants discussed issues of bilateral trade and economic cooperation, export and import of goods and services, prospects for business contacts facilitation and creation of joint ventures.
Following the meeting, 13 contracts were signed for a total of about 44 million Belarusian rubles.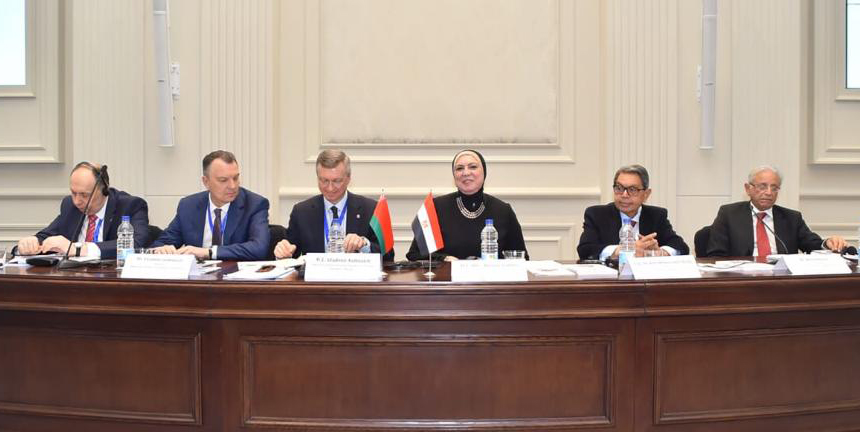 In addition, on February 20, the new administrative capital of Egypt hosted the exhibition «Belarus – Egypt: partnership for the future», in which 37 Belarusian enterprises took part.
During the exhibition, the Presidents of Belarus and Egypt got acquainted with joint scientific and technical developments of the National Academy of sciences of Belarus and the Academy of scientific research of Egypt, as well as samples of equipment produced in Egypt by JSC «MTZ», JSC «MAZ», JSC «Amkodor», JSC «Bobruiskagromash», JSC «Minsk motor plant», etc.
Minister of antimonopoly regulation and trade of the Republic of Belarus Vladimir Koltovich and Minister of trade and industry of the Arab Republic of Egypt Nevin Gamea, the co-chairs of the Belarusian-Egyptian joint trade commission, had a meeting at the end of the main event.
During the meeting, the parties discussed the latest assignments of the heads of states given the day before, as well as relevant issues of bilateral cooperation in trade and investment, industry, tourism, etc.
The parties noted the positive progress in resolving the issue of allowing products produced in Egypt at joint ventures to participate in tenders held in Egypt. In early December 2019, the Government of Egypt made an appropriate decision.
Both sides stressed the importance of full and timely implementation of the Comprehensive program for the development of cooperation between the Republic of Belarus and the Arab Republic of Egypt for 2019-2020 (so-called «Road map»), signed by the co-chairs of the Belarusian-Egyptian joint trade commission on June 18, 2019 in Minsk, along with the need of the prompt opening of the Embassy of the Arab Republic of Egypt in Belarus.